Hi, thanks for your interest in what will be a great great day of autumnal bulb planting. This page will provide more information about Daffodil Day in Colliers Wood.
If you have not heard of our group before, visit our Parks & Green Spaces home page to read more about us and our local volunteer activity.
Why you should join in the Daffodil Day planting?
With a huge number of bulbs to plant this is a great opportunity to involve everyone living or working in Colliers Wood in a local community project. The pop of joy that is sparked when you walk along a cold, grey high street on a winter's day, but then spot the green shoots of bulbs you personally planted beginning to emerge from the frozen earth, is something that is likely to take you by surprise as the bright yellow heads won't be far behind and you'll know that spring is on its way. Walking around Colliers Wood with friends and family and pointing out the stunning show of Daffodils that you planted is a great feeling.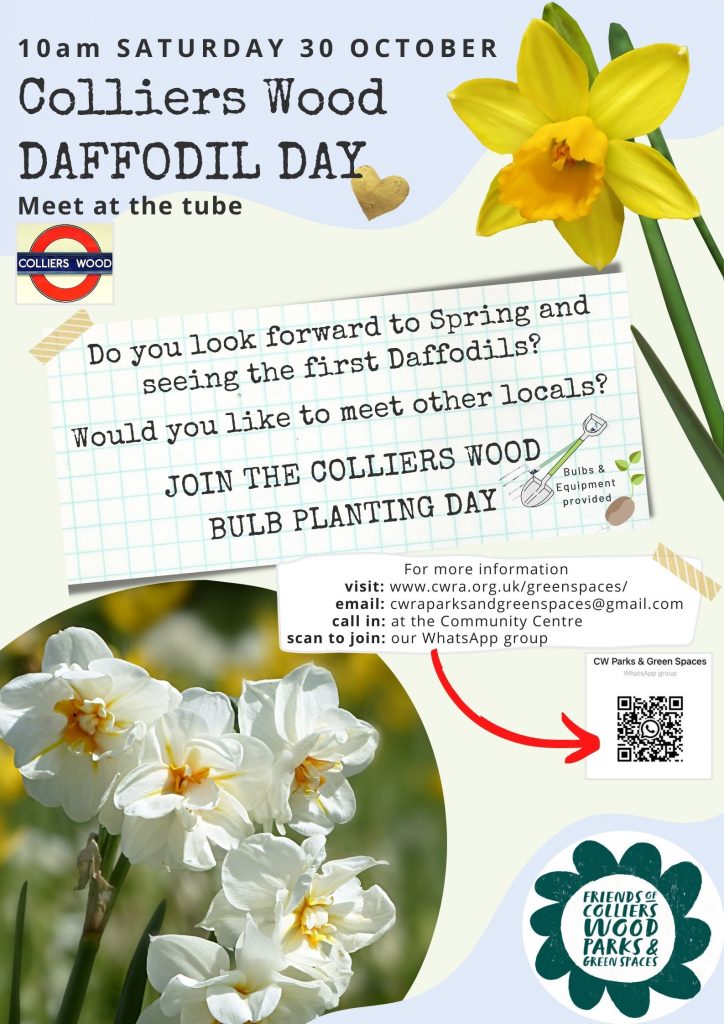 Plans on the day
Meet at Colliers Wood Tube Station
10am on Saturday 30 October 2021
We will divide into groups to cover each location
All equipment such as spades, trowels, gloves will be provided along with a large batch of bulbs
Expect to spend around 2 hours planting but feel free to join and leave at any time
The whole family are welcome
Ideally let us know if you are coming along, and the number of people in your group, so that we can make sure there is enough equipment and bulbs are equally divided
Bulb Planting Locations
Our group planted over a thousand Daffodils in 2020 so for 2021 we'll plant in new locations; Colliers Wood Recreation Ground, the green bank in front of Sainsbury's and the grass verge by the bus-stop adjacent to High Street/Byegrove Road are all being considered. Bulbs will also be planted in some of the areas our volunteers already look after such as the Myrna Close/Devonshire Road Cut-through and the green at the junction of Singleton/Robinson Road. Over 2,000 bulbs have been generously donated to our group by local councillors and the team at Future Merton; We have King Alfred Daffodils, Crocus Tommasinianus, Miniature Narcissus Daffodils and mixed Tulips.
How to get in touch and let us know you are coming
The best way to do this is either join our WhatsApp group, where all activity will be discussed, add your name to lists kept at the library and community centre (just ask to be added to the 'Colliers Wood Daffodil Day' list) or send an email to cwraparksandgreenspaces@gmail.com. We also have social media groups on Twitter, Facebook and Instagram but they are not particularly active. To visit our volunteer page and to find our social media links click here.
A great morning is promised
Joining a volunteer project on a crisp autumn morning, meeting other locals and then, come spring, seeing the beautiful results of your labour is possibly one of the most joyful and satisfying experiences you can enjoy in your local community. Let's support all that is good within Colliers Wood. We can't wait to meet you, see you on the 30th!