You can find details of community groups in Colliers Wood below. If you would like us to add your group, email us folk@cwra.org.uk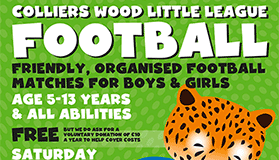 A voluntary run organisation that play at Colliers Wood Recreation Ground during the Autumn and Winter school terms,  open to boys and girls aged 5-13. Click on the title link or go to www.cwllf.org for more info.

Merton Green Party organise  monthly litter picks in Wandle Park and occasional litter picks in Myrna Close nature reserve and the Recreation Ground

Kids tennis coaching sessions are organised by local residents for the benefit of the community, and the coaching is led by professional coaches Liz and Tom from Merton School Sports Partnership.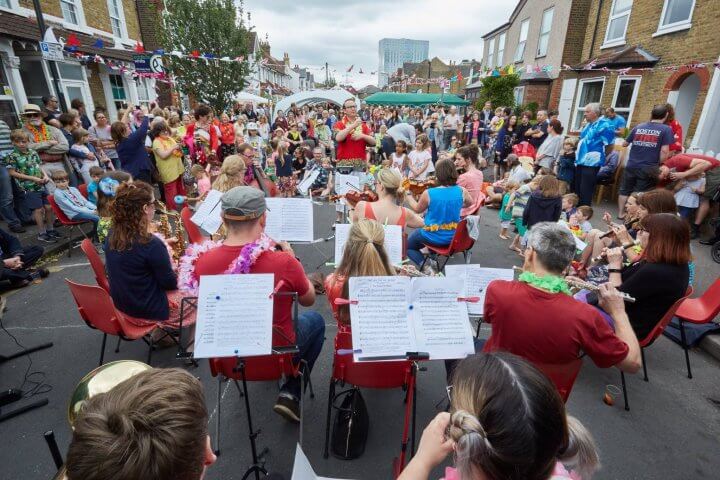 Colliers Wood Community Orchestra
Colliers Wood Community Orchestra started in February 2018 and is an instrumental collective for the local community in Colliers Wood and is made up of musicians from all levels (beginners, improvers and advanced – all welcome). We were formed to cater to the lapsed musician – someone with an unplayed cello or bassoon in the loft. Not strictly a symphony orchestra – our repertoire is a mixture of popular classical and contemporary pieces and there's always room for another player at our weekly rehearsals.
We're happy to accept instruments that are not from traditionally symphonic ensembles like tenor/baritone horns, euphoniums, recorders etc. We'd love more strings, double reeds and brass players particularly! Our regular rehearsals are at the Community Centre on Tuesday evenings. Set up from 19:30 and ready to play at 19:40.
If you're interested in joining the orchestra please contact: collywoodorchestra@gmail.com stating your instrument(s) and level. Membership is £40 per term.