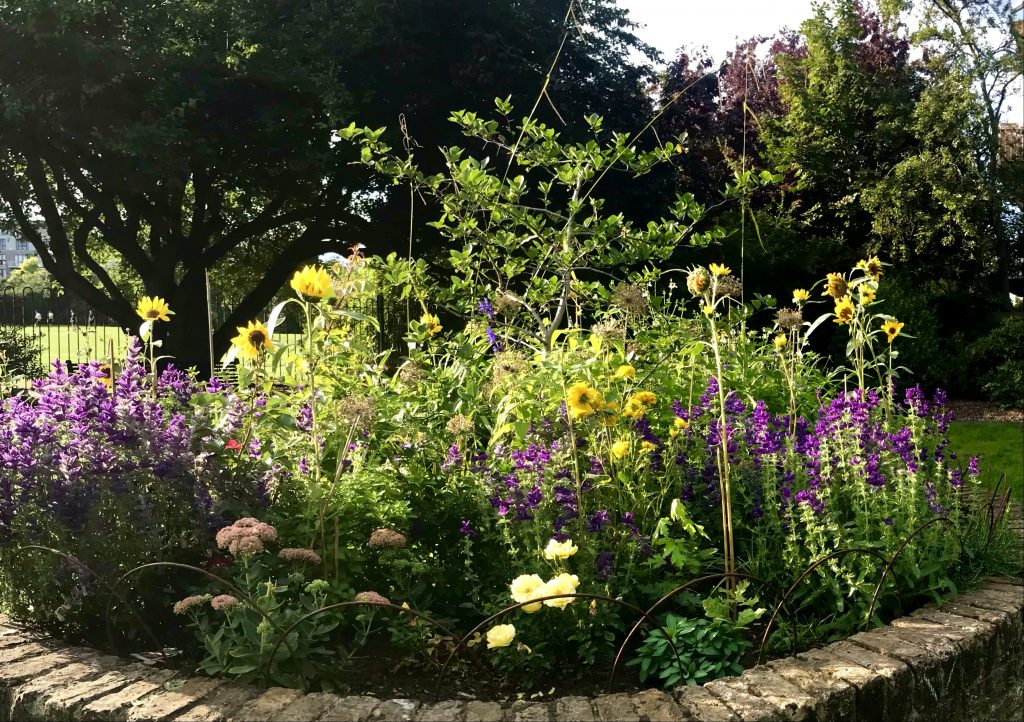 Gardening work is by its nature, ongoing across the year with activity dependent on season and weather. In autumn we are busy planting spring bulbs, in early winter it is a good time to take stock and cut back over grown shrubs. As soon as the frosts are over we sow new plants and watch for our autumnal planted bulbs to provide the first signs that finally spring is on its way. In summer we are furiously watering, tending our many beds and planters and dead-heading blooms. We develop and maintain many green spaces across Colliers Wood so it is a very busy year. These are some of the gardening projects we manage below.
Colliers Wood Recreation Ground
Situated to the south of Colliers Wood High Street, is Colliers Wood Recreation Ground. 'The Rec' as it is known locally is the centre of much community activity and we are very proud of its green flag status. As well as home to trees and evergreen borders, the 3 hectare space features a children's playground, a summer paddling pool, tennis courts and a football pitch used by the local little league and dog walking groups. The Friends Group manages the planting, maintenance and development of several green spaces although management is outsourced by Merton Council to contractors, idverde, who were appointed in 2017. Click this link to report a park maintenance or litter problem via the council website or email to complain, comment or complement any Merton greenspace service.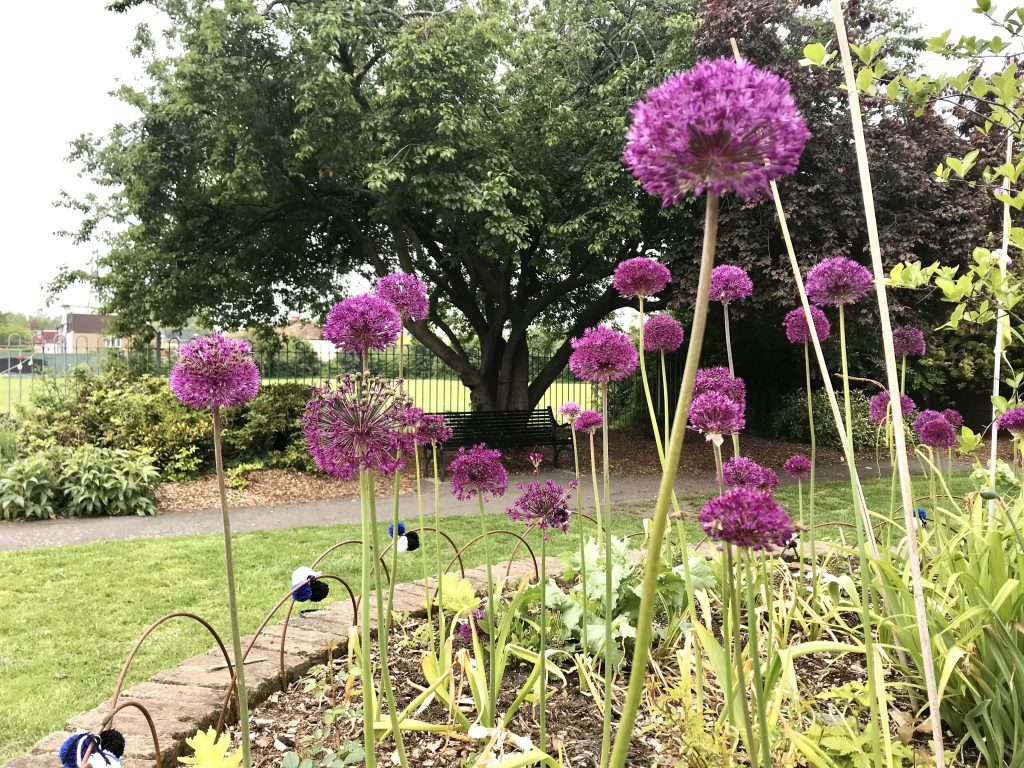 The crowning glory within The Rec is undoubtedly, the Memorial Garden which is maintained by our Friends group of volunteers. Since being taken over by volunteers who have put in many hours of dedication, planning and hard work, the once barren, weed filled raised central ornamental bed now has a year-long show of beautiful, perennial flowers, shrubs and Hawthorn trees. The bed contains sustainable and native plants which is a haven for local bees, butterflies and insects.
Other projects have included 2 well attended Daffodil Days, one in 2020 and another in 2021. Many people from the local community helped to plant more than 4,000 mixed bulbs of King and mini Daffodils, Crocus and Tulips. In Autumn 2020 the planting of apple and fig trees thanks to a generous donation from Abundance Wimbledon and the installation of a mud kitchen play area for children built by one of our most talented volunteers Norberto. To celebrate World Earth Day 2021 we had a wonderful day introducing children from the local 'Funky Owl's Nursery' to the joy of planting summer flowers. Our group also maintain the 4 planters at Cavendish Road and Singlegate entrances. We are currently working on a project to plant up the dormant beds near the Cavendish Road entrance and improve this neglected area which currently provides a very unattractive welcome to The Rec. We have great plans for this area, watch this space…
One of our biggest challenges is access to water particularly in the spring and summer months. With no nearby tap we have to fill watering cans some distance away and transport them to our spots. This is something we desperately need to address and would be keen to rectify with idverde.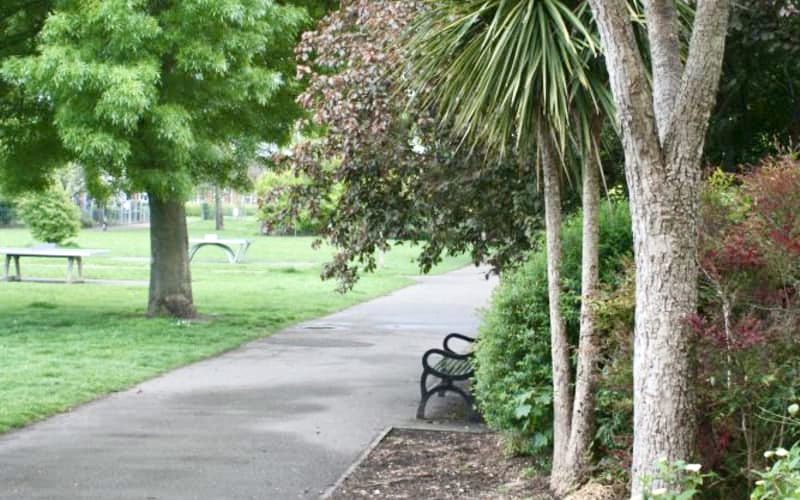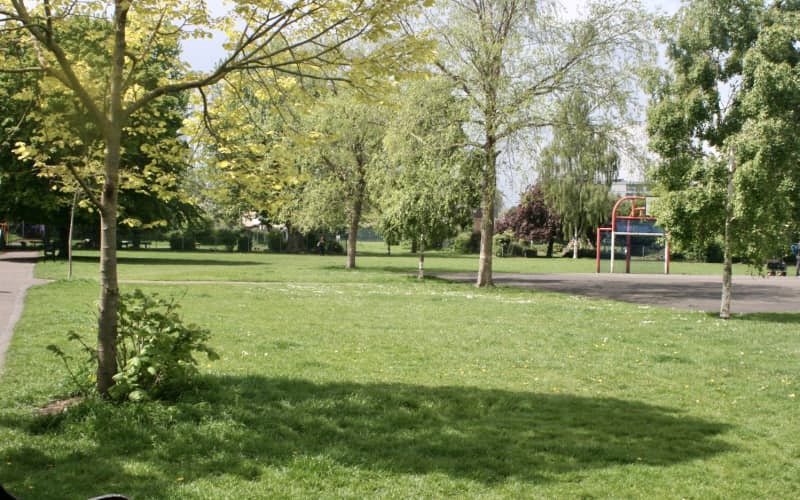 The Planting of Baltic Close
Baltic Close was one of the first areas managed by our volunteers. Situated just off the High Street, adjacent to The Charles Holden Pub, it is a walkway into Wandle Park. We planted and maintain all beds, trim and tie back the Jasmine and try to train it over the tall climbing frames. The beds are full of bulbs and provide one of the first sightings of Spring in Colliers Wood. The beds are very shallow and so keeping them adequately watered is a huge task. We are lucky to have dedicated volunteers who water this area and keep the plants alive. Unfortunately there is also a significant amount of litter that accumulates in this area which the team at the Charles Holden help to clear.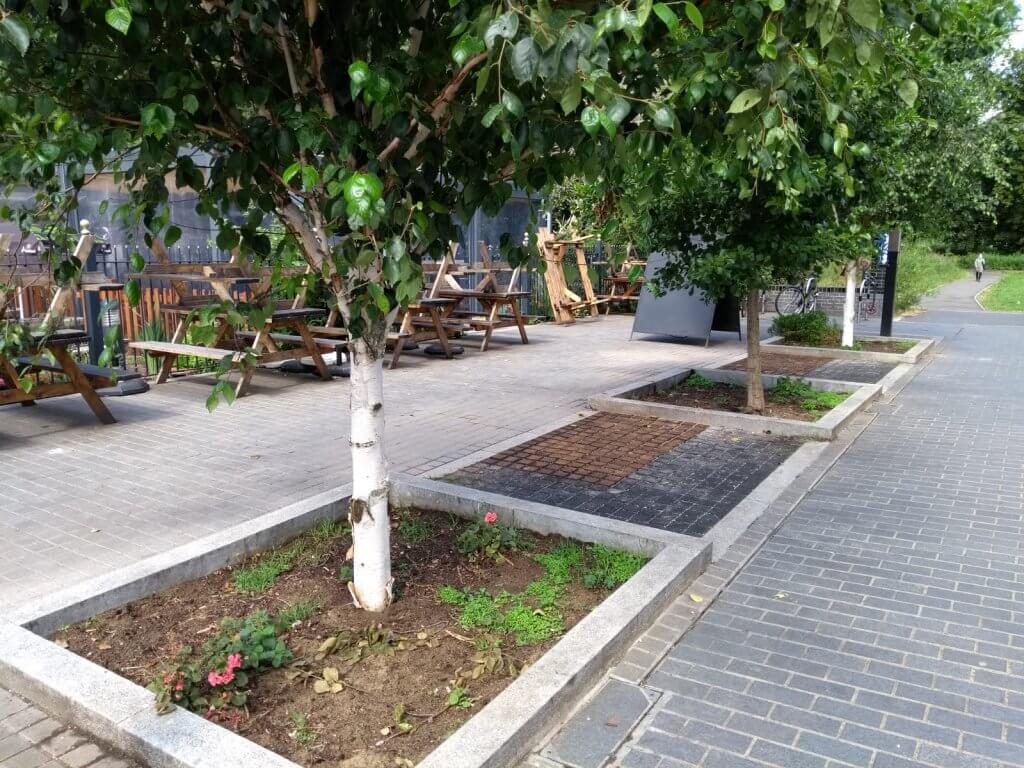 High Street Planters & Flower Beds
We regularly manage many tubs and planters around Colliers Wood. We have recently taken on the 3 large areas by the bus stop on the High Street between Tesco and Byegrove Road. We are currently working with the Future Merton team with some new ideas for this area. Before the Flats in Byegrove Road were built in the 1960s, this area was called Walnut Tree Green so it would be a lovely nod to our local heritage to bring back this name.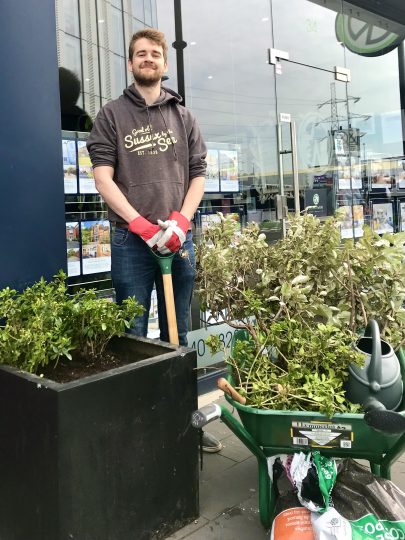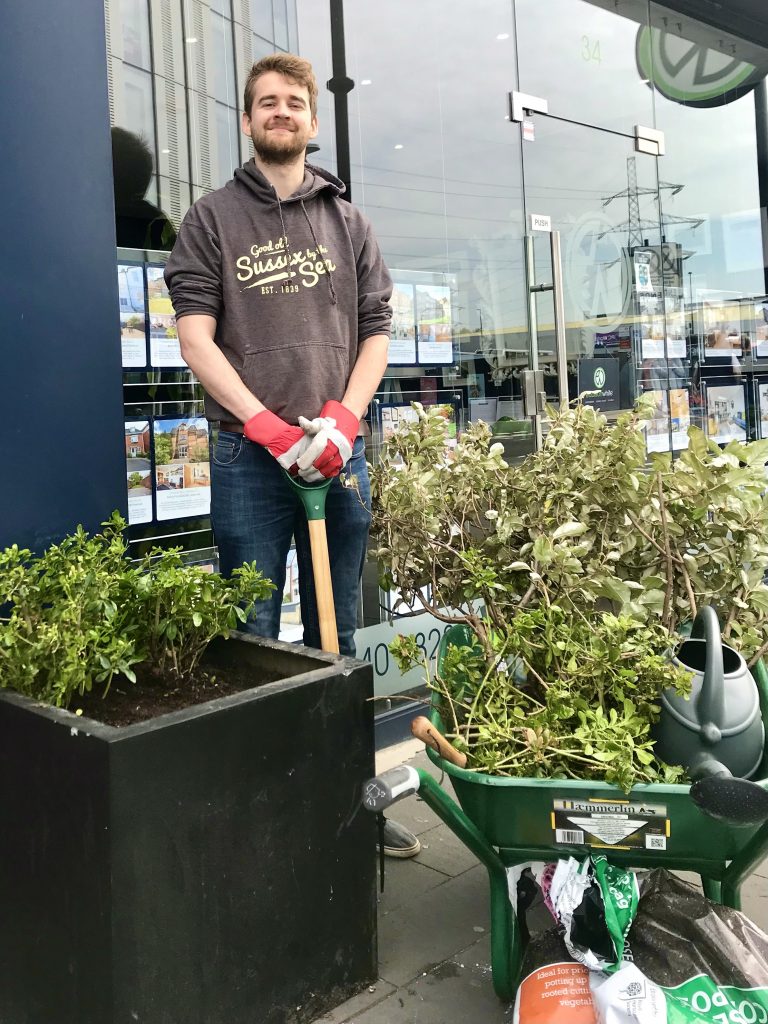 5 planters on Christchurch Road outside Venus, Colliers Wood Tube Station and eddisonwhite
3 planters opposite tube station adjacent to CJames/Charles Holden/Traffic Lights
The long bed on the High Street, outside the Nursery/Johmard Centre
2 planters in Acre Road
7 flower beds and planters in Baltic Close adjacent to the Charles Holden Pub
'Walnut Tree Green' – The 3 large beds between Tesco and Byegrove Road
Other Local Project Areas
The Friends Group are also active with other local projects; The planting of shrubs in a neglected grass verge at the junction of Singleton Close and Robinson Road whilst a cut-through between Myrna Close and Devonshire Road has been completely transformed with lots of planted shrubs and flowers plus a growing collection stones painted and left by local children. The cut-through also contains the first Colliers Wood book-swap cupboard as well as a beautiful bug hotel. With 5 Stars, we hear it is the favourite place to stay for local bugs and insects!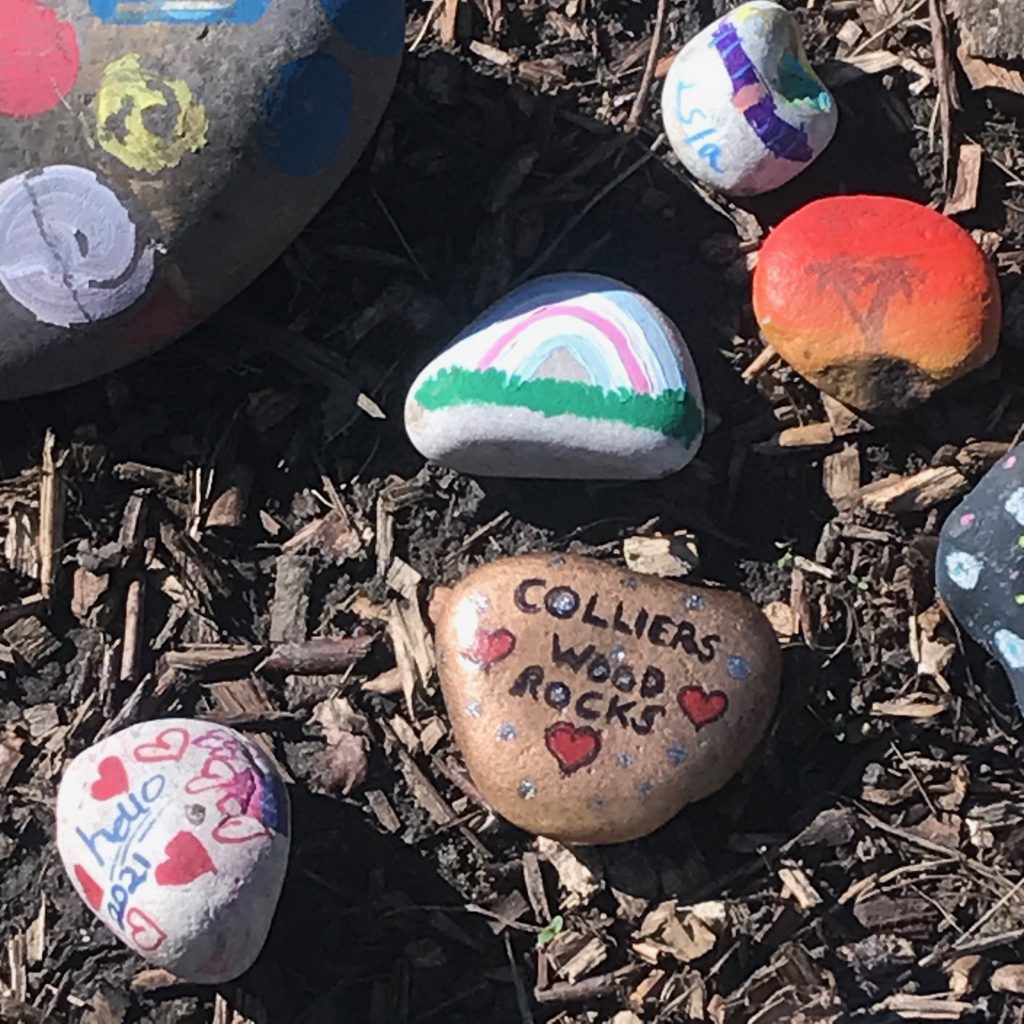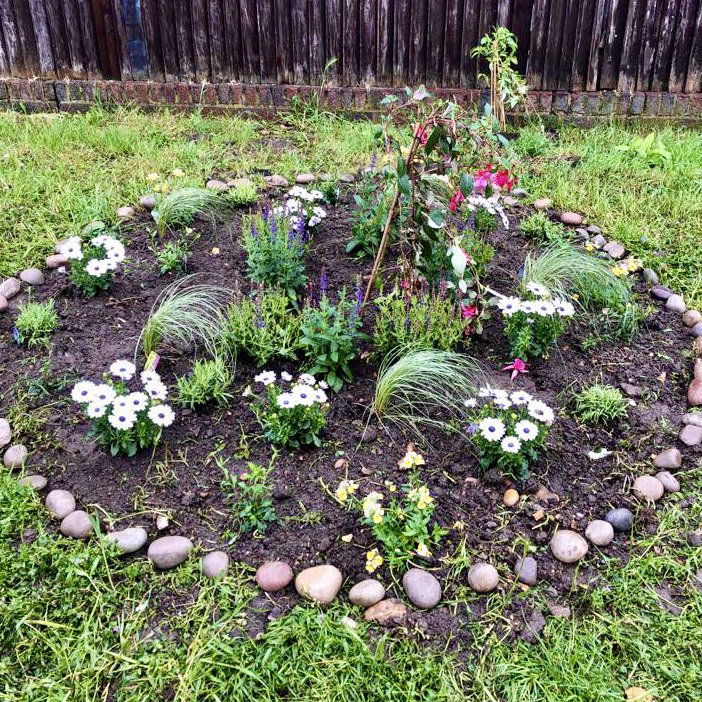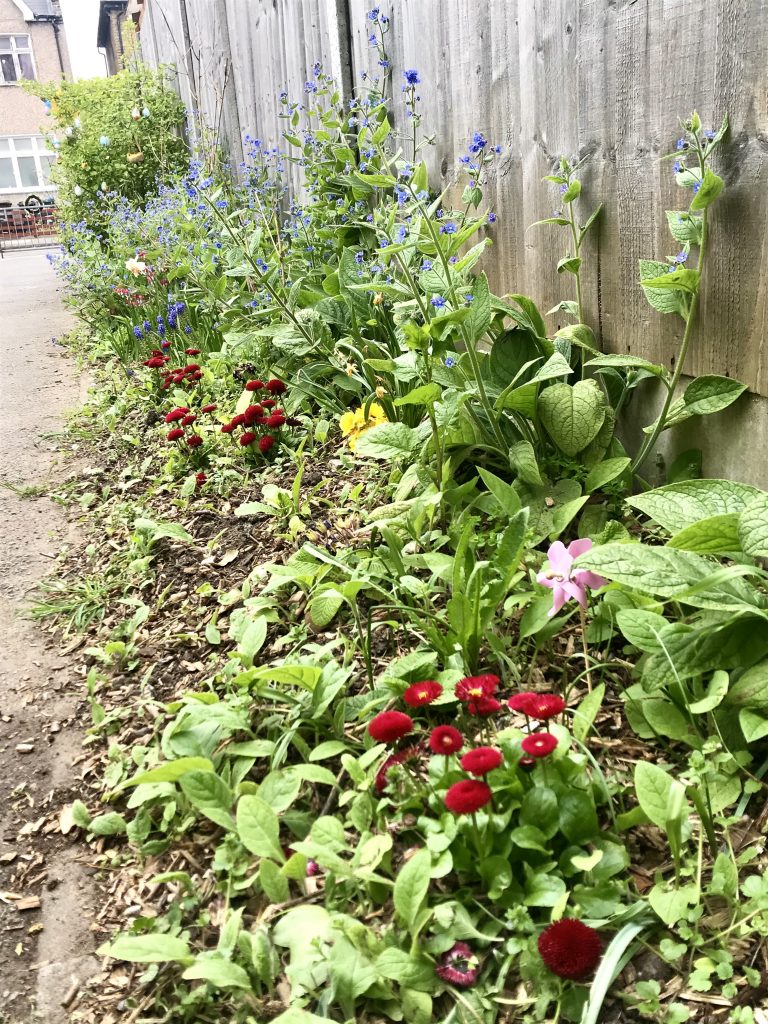 Tree Bed Planting
Many local residents worked with the Friends Group for the tree base planting project which was initiated and sponsored by eddisonwhite A number of roads across Colliers Wood have been planted so far including Cavendish, Clarendon and College Roads and Colwood Gardens. Tree base planting is also one of the initiatives of Merton Climate Action group and tying up these 2 projects has been of great benefit to the local community and environment.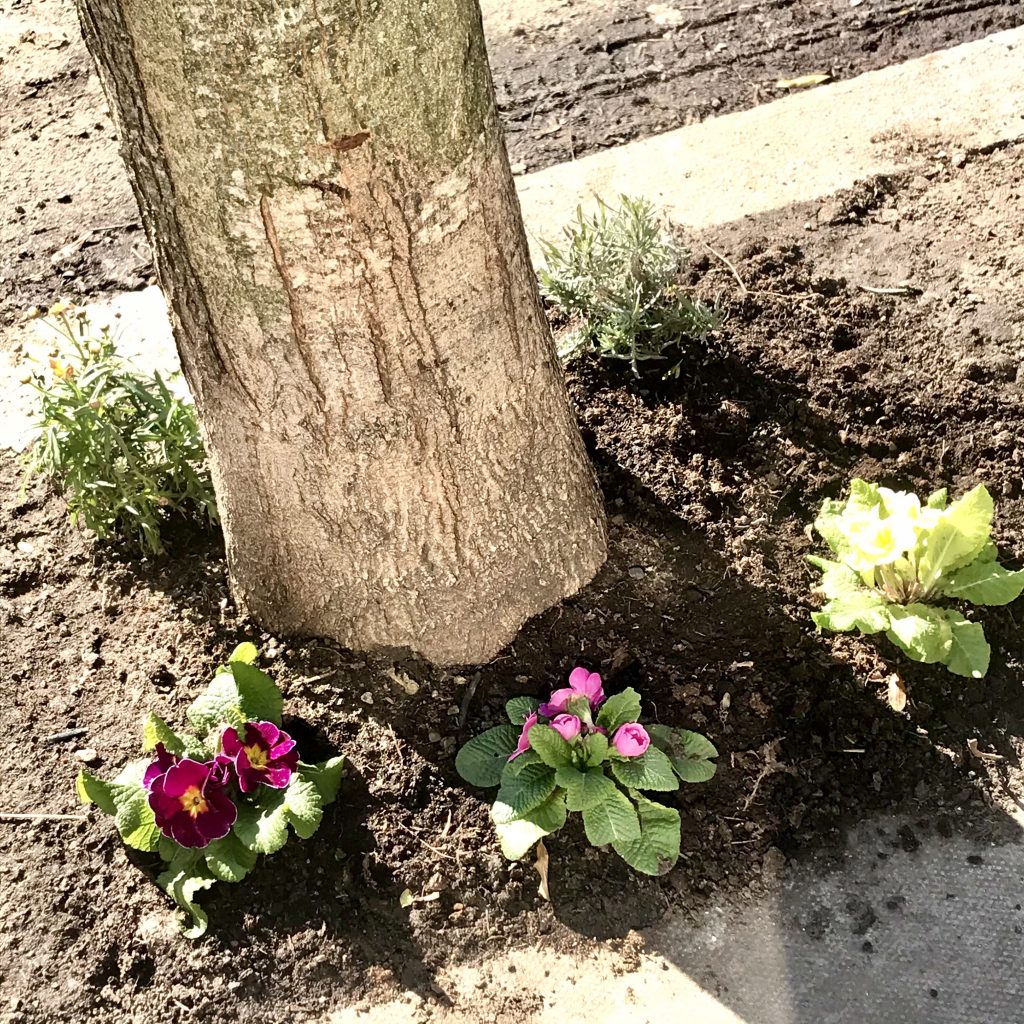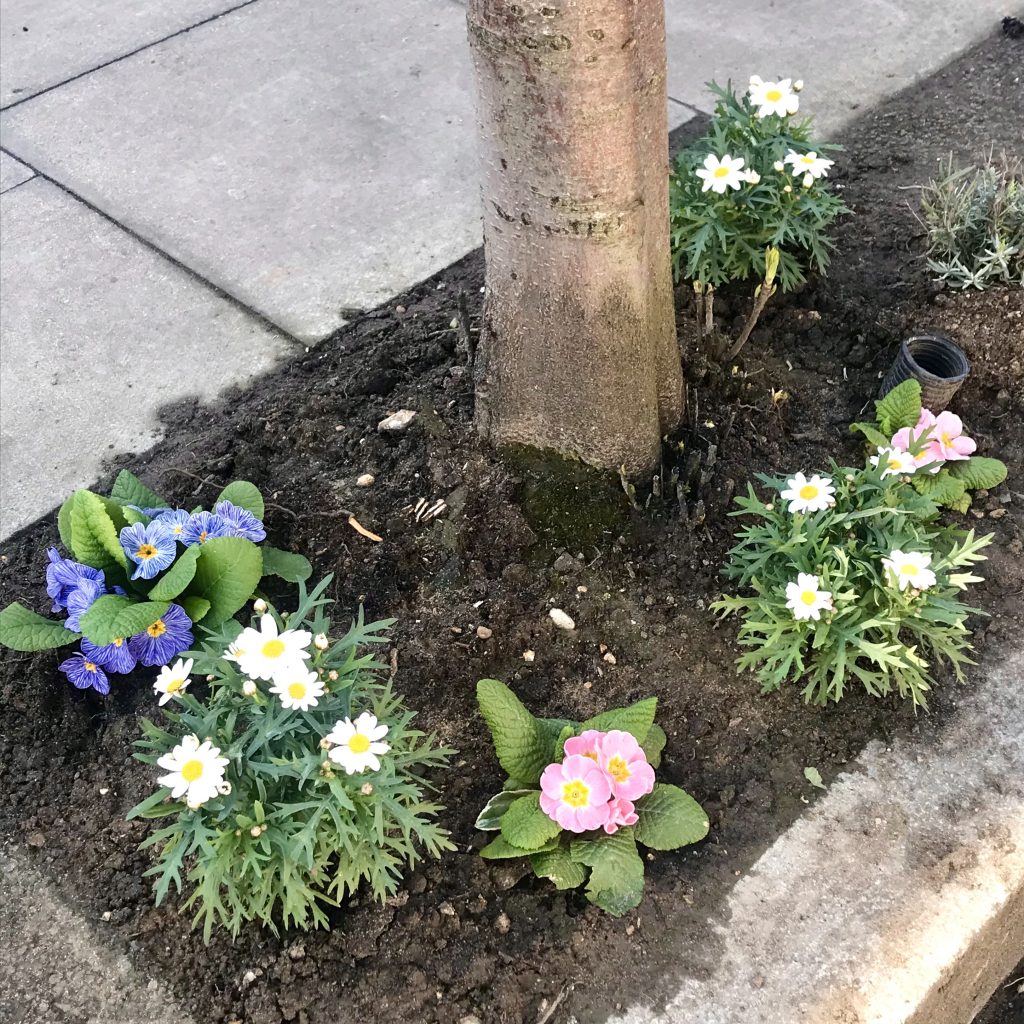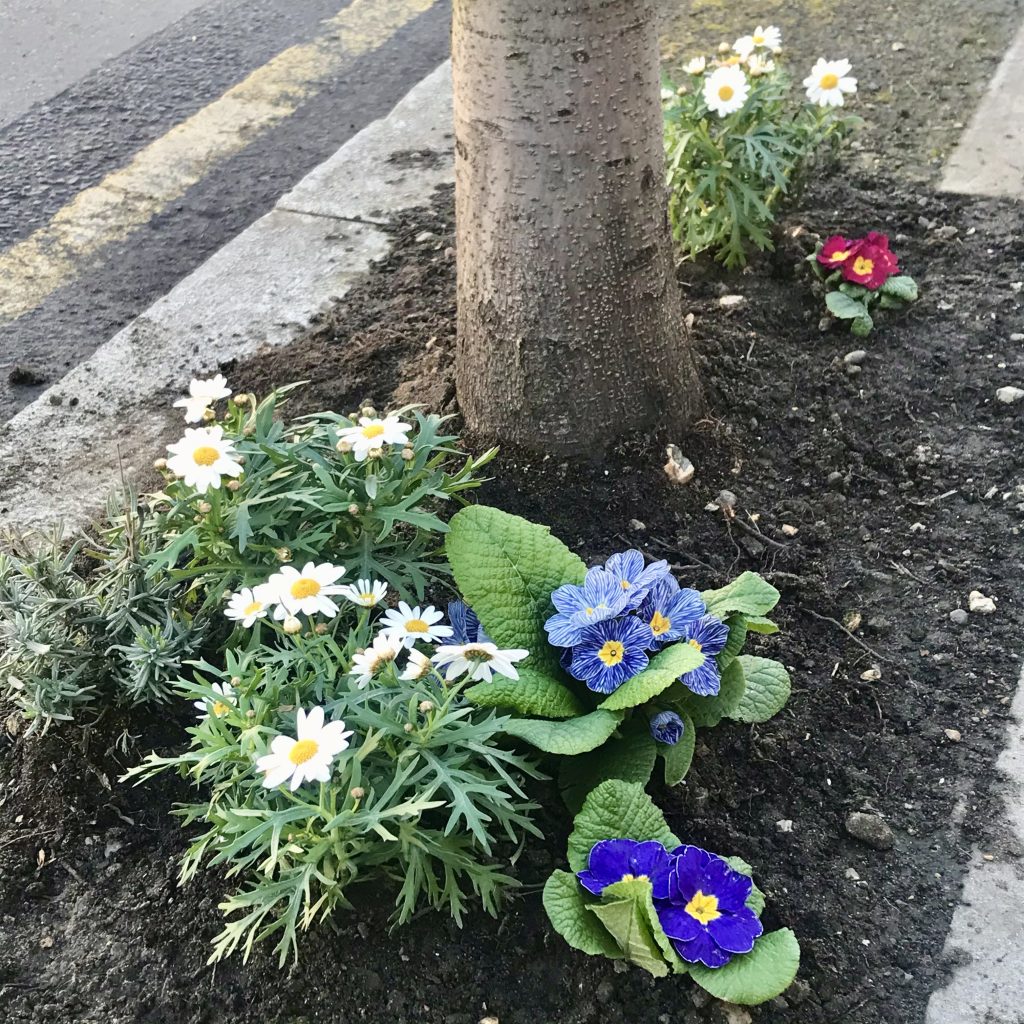 Wandle Park
Within Wandle Park, just beyond the entrance from Baltic Close, we have built a natural wooded area to encourage wildlife habitats. We have also been working with the South East Rivers Trust (SERT) and have begun to clean the River Wandle of litter and the manage the removal of invasive plants. For our work on and around the Wandle read about the River Group Activity here.
---
To join our Gardening Volunteers, please visit our Volunteering Page here